Simulate the satellite network
Learn how to use the WiFi Board
1. Create a Wi-Fi access token​
Go to the Astrocast Portal.
In the bottom left corner, click on ⚙️ Settings.
Click on Access Tokens.
Click on ➕ create new access token.
Enter the access token's Name, set an Expiration date and assign a Role.
Click on Create.
🗒️ Copy the access token and store it in a safe place.
2. Hardware setup​
Connect the Astronode Wi-Fi Board to your computer with either the UART Cable 1.8m or the RS232 Cable 5m, see Interfaces.
3. Send a message with the Astronode GUI​
The Astronode GUI is a Windows application helping you to configure the Astronode DevKit.
See Astronode GUI for more information.
Select COM Port​
Connecting the Astronode DevKit to your computer through a TTL cable should mount a COM Port on your computer. You need to select the right port.
Here is the process on Microsoft Windows 10:
Open Device Manager.
Click on View in the menu bar and select Show hidden devices.
Locate Ports (COM & LPT) in the list.
Check for the COM ports by expanding the list.
Setup Wi-Fi network​
info
Only 2.4 GHz Wi-Fi access points are supported.
Enter the SSID of your Wi-Fi network.
Enter the Password for your Wi-Fi network.
Enter the Astrocast Token generated above.
Click on Set Wi-Fi config.
Enqueue a message​
Enter your message into Enter your message textbox. A message can be up to 160 bytes.
Click on 📨 Queue message.
Get an ACK from the satellite​
If the transmission is succesful, your DevKit will get an acknowledgement (ACK) from the server.
You will see the "Acked" circle on the Astronode GUI turn to green. 🟢
Screenshot​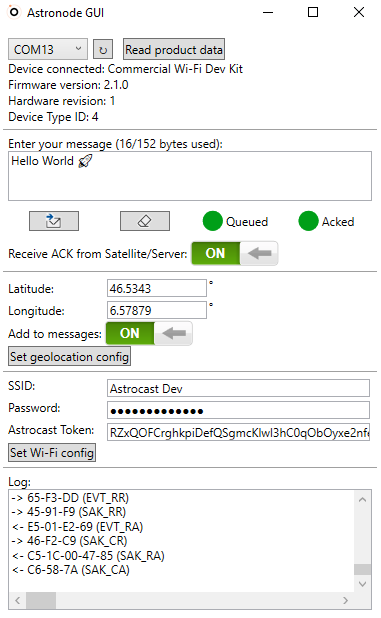 4. Retrieve your message in the Portal​
Go to the Astrocast Portal.
Click on Messages in the sidebar.
Find your message in the list.