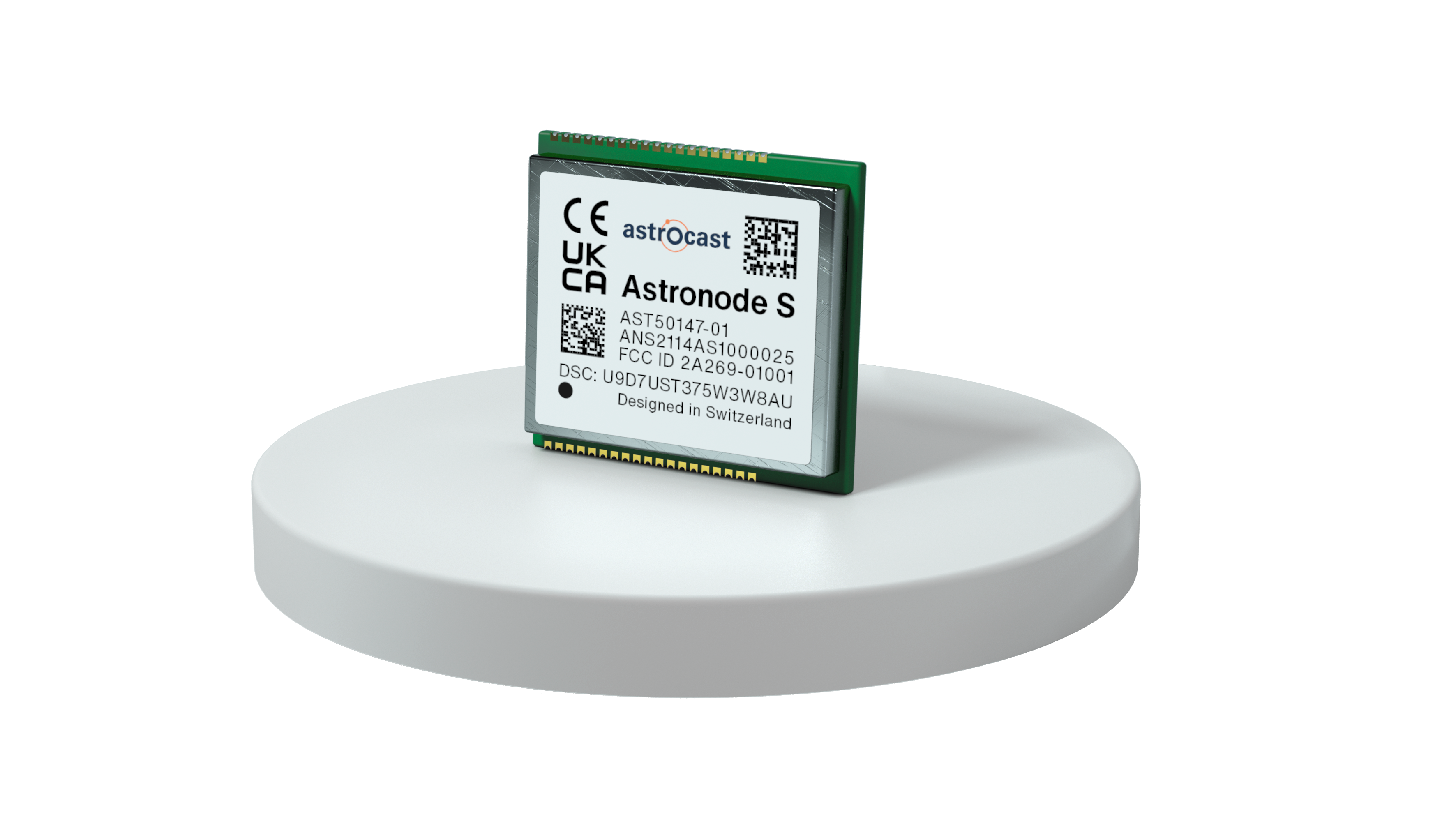 Buy on Mouser
Product description​
The Astronode S is a satellite communication module, connecting your IoT devices to Astrocast's network. It enables the monitoring and control of devices with bidirectional satellite communication and up to 10 years lifetime off a single battery. The module features an SMT castellated pads form factor for trouble-free integration and soldering onto a PCB.
Low power​
The Astronode S features a very low peak power consumption. This offers a more predictable battery lifetime as transmission power does not depend on the local network structure or regional RF band regulations.
Low cost​
The use of L-band allows for smaller antennas, lower-cost RF components and better propagation than other bands. This reduces both size and cost of IoT applications.
Hazardous locations​
The Astronode S is suitable for integration into devices intended to be ATEX/IECEx certified. The module works at low power, and without current pulses, it is also free of any built-in voltage step-up converters.
Bidirectional communication​
The module, with its integrated proprietary chipset, handles worldwide direct-to- satellite communication over the L-band within the 1-2GHz spectrum. The encrypted communication enables acknowledgements, asset commands and the deployment of security patches. Both the satellite and ground station networks ensure maximum reliability thanks to a redundant setup.
Technical characteristics​
Item
Description
Size
31mm x 35mm
Supply voltage nominal
3.3V DC +/-5%
Peak power consumption (in TX mode)
<0.35W
Deep sleep current
<500nA (LPUART deactivated, wake up pin available
Operating environmental range
-20°C to 70°C / -4°F to 150°F
Serial Interface
UART
Encryption
2-level 256-bit AES with unique device keys
Variable user payload size per message
1-160 Bytes
End-to-end network latency
15min, location dependent, with full network deployed
Data access
REST API or Online portal
Certified
CE & FCC
RoHS & REACH
Form factor​
The Astronode S features a 38pin castellated pad form factor suitable for reflow soldering.
3D model​
Product label​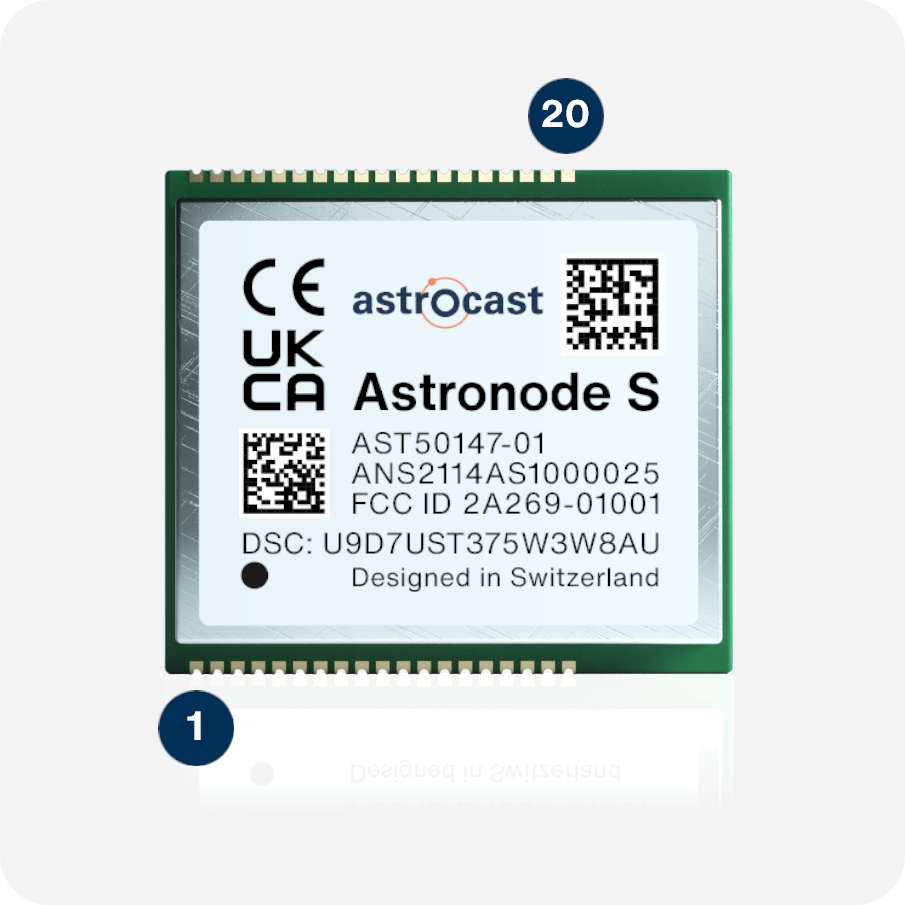 | Content | Description |
| --- | --- |
| AST50147-01 | Product item number |
| ANS2114AS1000025 | Unique Serial Number (S/N) |
| FCC ID 2A269-01001 | FCC ID Number |
| Data matrix code (top-right corner) | The above S/N in machine readable format |
| DSC: U9D7UST375W3W8AU | Device Security Code (DSC) |
| Data matrix code (left) | The above DSC in machine readable format |
Pin-out​
Pin name
Pin number
I/O type
Description
VDD
CS1
Power
Module power supply
VDD
CS2
Power
Module power supply
TXD
CS10
Output
TX UART of the Astronode S
RXD
CS12
Input
RX UART of the Astronode S
EVENT_NOTIF
CS4
Output
Indicates an event
Internal pull-down of 1Mohm
ANTN_USE
CS6
Output
Indicates when the Astronode S uses the radio
WAKEUP
CS8
Input
Wakeups the Astronode S from low power mode
Internal pull-down of 1Mohm
RESET
CS14
Input
Reset of the Astronode S
Active on rising edge
GND_RF
CS15
Power
RF ground (internally connected to GND)
GND_RF
CS16
Power
RF ground (internally connected to GND)
ANTN_RF
CS17
Output
RF signal
GND_RF
CS18
Power
RF ground (internally connected to GND)
GND_RF
CS19
Power
RF ground (internally connected to GND)
GND
CS3
Power
Ground
GND
CS5
Power
Ground
GND
CS7
Power
Ground
GND
CS9
Power
Ground
GND
CS11
Power
Ground
GND
CS13
Power
Ground
GND
CS23
Power
Ground
GND
CS25
Power
Ground
GND
CS27
Power
Ground
GND
CS29
Power
Ground
GND
CS31
Power
Ground
GND
CS33
Power
Ground
GND
CS36
Power
Ground
N.C.
CS24
-
Leave unconnected
N.C.
CS26
-
Leave unconnected
N.C.
CS28
-
Leave unconnected
N.C.
CS30
-
Leave unconnected
N.C.
CS32
-
Leave unconnected
N.C.
CS34
-
Leave unconnected
N.C.
CS35
-
Leave unconnected
RSVD
CS20
-
Reserved
RSVD
CS21
-
Reserved
RSVD
CS22
-
Reserved
RSVD
CS37
-
Reserved
RSVD
CS38
-
Reserved
RED compliance for final radio equipment products​
This radio module is intended for professional integration only. When integrating this radio module permanently into a host product to create a new radio equipment device, the manufacturer responsible for placing the final radio product on the market in the EU must assess if the combination of this radio module and the host product complies with the essential requirements of the RE Directive 2014/53/EU.
Downloads​
[PDF] Astronode S Product Brief
[PDF] Datasheet
[PDF] Low Energy Guidelines
[STEP] 3D Step File
See Downloads.